As I said in my last post our house was literally covered in paneling or wallpaper in EVERY room! And it was very nice awful 80's floral wallpaper. VERY well attached I might also add! I committed a cardinal sin...I primed and painted over it! ahhh, but it was either that or rip the paper off of the sheet rock and repair the sheet rock. I chose the easier out of primer and paint.
Front door and entry way. pretty small and cozy.
This is the hallway looking from my son's room towards the entry. who wallpapers a hallway?? and there were hollow core dark doors everywhere in this house. Initially about 20 interior doors...our house is a 3 bedroom 2 1/2 bath rancher!!! yikes lots of doors.
This is the eldest painting some creativity in the foyer! He was almost 5! (now he is almost 12)
2nd precious little one. he was 3...now 9.
Very hard at work.
I don't think "scrubbing" is a painting technique the pros use!
Studying the green.
There was a heavy coat of paint about waist high!
I left the olive green-which I loved-for 5 yrs. Then after painting the master gray, I couldn't stand the foyer and hallway any longer. We installed 4 new 6 pannel doors so I had to paint those white and the trim, so I decided to change to Benjamin Moore Revere Pewter.
The hallway was a nice yellow but changed to the top paint chip color. I have no natural light in this area so the pic is not a true color it all looks kinda yellow anyway.
A few of the new doors painted white!
I didn't tale any befores of the green entry with my hutch sorry...but here is what it looks like
now-
This was a china hutch my mom had years ago and gave it to us when we got married. It was painted white about 15 years ago and I still like it that way just wanted to vamp it a little. We never had the doors to it so we just added the trim on the edges. I found this fabric that has all of the colors that I love.
I liked this fabric as well has same colors only smaller design...maybe I was tired of the green?? Didn't use it yet.
Cut this fabric to go onto the back of the cabinet panel.
Sprayed the wood with elmers craft bond spray adhesive, and smoothed on fabric.
This was actually very easy to do. Love the result!
Shelves back in place.
Added this green pull from Hobby Lobby 1/2 off.
Arranged all of my "friends" back into place.
Got the blocks about 3 years ago at a flea market (I have them in several places in the house) Wrapped these stryo balls w/ jute and spray painted 2 of them, bowl from At Home America.
Bird house & candle holders from southern living @ home
Bird house Hobby Lobby, star and pitcher from various finds.
More blocks
Willow Tree angels collected from over the years.
My mom got me this rooster plate.
Frame from TJ maxx sprayed glossy Ivy green, gerber daisys make me smile...real or fake!

Front door now white.
Opposite wall - the front door opens into this wall. (pretty small) This is the best pic of paint color. I put more material on top of this little table.
I think I will keep things this way for awhile, we are truely tired of painting that hallway it was a pain.
I am linking to these parties
http://sewmanyways.blogspot.com/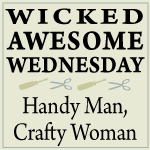 http://pinkpostcard.blogspot.com/